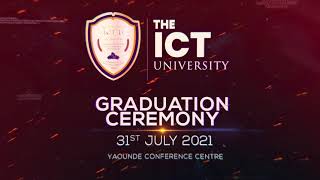 ICT UNIVERSITY'S GRADUATION CEREMONY, WITH PRESIDENT OLUSEGUN OBASANJO AS KEYNOTE SPEAKER, ON JULY 31, 2021 (WATCH THE VIDEO).
A MUST ATTEND. So proud to announce ICT University's 6th Commencement (Graduation) Ceremony coming up next month (JULY 31, 2021). Special guests of honor, in addition to our keynote speaker, H. E. Obasanjo:
1. Representatives from the Cameroon Government;
2. Cameroon's TWO-TIMES Olympic Gold Medalist, Ms. Françoise Mbango (still holding on to her Olympic record);
3. Cameroon's / World's football superstar and African footballer of the 20th Century, H. E. Roger Milla;
4. The world's best academic mentor, Professor Terry Anthony Byrd;
See you all at the Yaounde Conference Center (Palais des Congrès.) ON JULY 31, 2021.