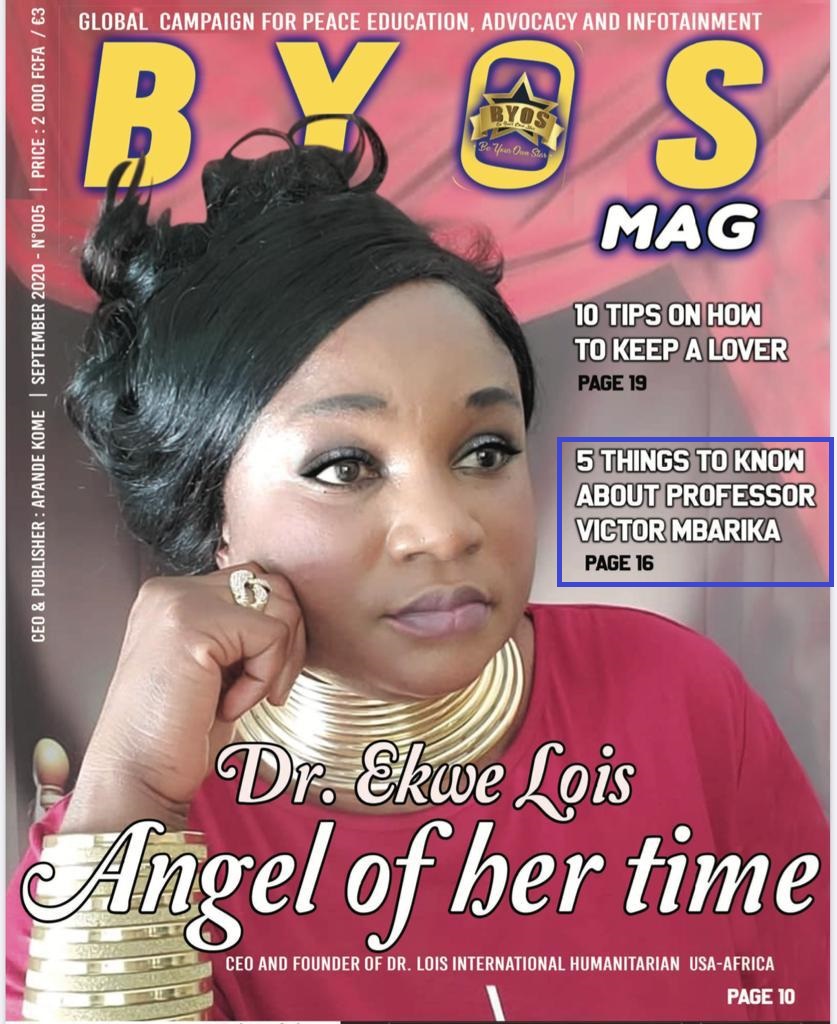 5 things to know about erudite Professor Victor Mbarika
Question: Who is Professor Mbarika
Answer: Well, Professor Victor Mbarika, I am from the proud village of Zang Tabi in Cameroon. I never had a privilege to grow up there but that is my place of origin. I live now in the great State of North Carolina in the United State in Greenville. I serve as a Stallings distinguished international scholar and information system professor at East Carolina University, and as many of you know, I am the President of the Board of Trustees of the ICT University.
Who am I really? I am a simple person that serve God by serving people through my profession and many other things. I love my family, I have great parents and that is essentially who I am.
Question: What is that one thing that makes Professor Mbarika different from other professors.
Answer: Well, you want to get me into trouble with other professors, I'm not sure if there is anything that makes me really different from other professors, but I have very strong beliefs about who a professor should be. A professor should not only teach in class, a professor should be able to be an entrepreneur especially those of us that are professors in business schools because that is a way you can really bring your external experience into the class. So that is one area Iam really really strong in. I do know that there are universities/institutions, not necessarily where I am now, but there are universities/institutions that frown when university professors are entrepreneurs but I think that is a bad idea, that is something I vehemently disagree with. So, I have always train my Ph.D students that they should not always learn to be great researchers but they should also learn to be great entrepreneurs too. And they should practise it and teach it in their classes because that is the best way to bring the real-world issues into the classroom. I was blessed by God to finish my Bachelors, Masters and Ph.D, all three degrees in five years combined. That is something that I have been very proud of and I thank God for it and it made me love this profession as a university professor.
Question: Tell us about your ICT consulting firm.
Answer: Well, a huge part of my entrepreneurial's life is running an ICT consulting firm. We consult with many private and governmental institutions worldwide, but especially in the developing world. This is not the ICT university, the ICT university is largely a non-profitable initiative which is my gift to my great African continents and we are located in multiple countries in Africa. In addition , on the entrepreneurial side, we do implement different information technologies related systems for many governmental and private institutions in the areas of high education. We do a lot of work in E-learning implementation, in the area of health care, we do a lot of work in Telemedicine where a doctor can sit in his city and treat a patient in another part of the country, say a village, E-agriculture where we support farmers and big agricultural initiatives are able to use technology to improve crop yield and reduce the issue of food shortages especially in developing nations.I am really excited about this and of course I do a lot of entrepreneurial work too in South America, the Caribbeans and other countries.
Question: What lessons can be drawn from your purpose or what would you like other entrepreneurs to learn from you?
Answer: This is a super great question. There are things I have learnt these past years as an entrepreneur. First of all, I learnt entrepreneur from my Dad , he has always been an entrepreneur, even while working with the government, he was running his own printing and publishing company. So, I learned the way to treat your staff from my dad . That was one of the biggest lesson I learned. I mean, your staff, are the reason you are there. You treat them well you will get good results . You must treat staffs with a lot of respect. I disagree with my staff on certain things and I also voice my opinion very strongly sometimes to my staff and by the way, it's not every thing I say that goes, so I am also flexible to listen and change. Number two, your customer is your number one key. I know people talk about this all the time but it is real, I mean you must make your customers your top priority, otherwise, you are not a n entrepreneur . The third area that I have learnt over the years is that while doing, business, you should have it at the back of your mind that you will treat with different sets persons. You must learn to navigate how to work with even dishonest people. If you plan to only work with honest people, you will be surely disappointed. People will want to cheat on you, people will want to steal from you so, you will have to understand how to work or do business with such individuals . And finally, the biggest mistake I see especially amongst young people I mentor is that they fail as entrepreneurs because their reason for coming into entrepreneurship is to make money. Yes, money is important, but if that is your number one reason instead of the quality of your products , you will not last long. So, because many come to make money, they expect that they will make money within the first year or first two years. You need to be patient, it takes time, money comes eventually when you have a good product. You don't have to run after people, the money aspect will come naturally. And so these are some of the lessons, not the ones I have written in books, I have published a book on entrepreneurship with some colleagues in Ghana. These are things I have learnt as an individual during my entrepreneurial project worldwide.
Thank you for the interview I am really honored, and I look forward to interact with you more.