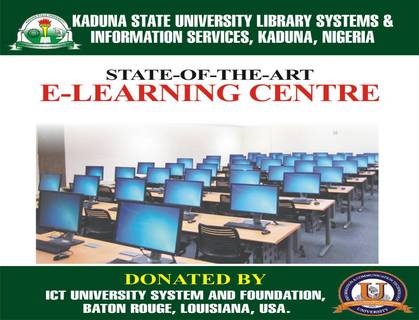 ICT University Foundation Donates Over N30 Million To Nigerian Varsity For ICT
The ICT University donated N30 million worth of e-library facility equipped with world class equipment to the Kaduna State University (KASU).
Prof. Victor Mbarika, the President, Board of Trustee of the university said that the gesture was to boost the deployment of Information and Communication Technology (ICT) teaching and learning in the university. Mbarika, while handing over the facility to the university Chief Librarian in Kaduna, said the e-library would enable the university lecturers to upload all their courses and teaching materials online.According to him, this will enable students access the courses online from other parts of the world and also access other books and journals for free that would have cost them huge amount of money.
"Many university leaders in Nigeria and Africa do not care about technology. They prefer to remain in the dark ages of teaching and learning, but KASU vice chancellor and the chief librarian belong to the digital age. They have made several efforts in terms of deploying technology for teaching and learning, we want to support them to succeed in this regard."
This is reported by the some the country's news portals as the full report can be read the links below:
Nigerian News: US Donates Over N30 Million To Nigerian Varsity For ICT
Daily News Precise: U.S.A Foundation Donates N30m e-library Facility To Kaduna Varsity